An article from the Guardian, sent by Barry Clarke
A global shift to 100% renewables is not just cleaner – it's about equality
Communities in Germany, Canada and Uganda are already reaping the benefits of moving away from fossil fuels to more decentralised energy systems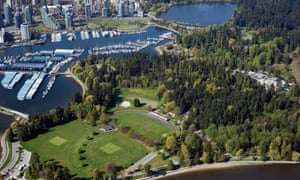 As the world's energy system shifts from fossil fuels to renewable sources, the question is no longer if the world will transition to sustainable energy, but how long it will take and whether the transition can be made in ways that maximise the benefits today and for future generations.
Changing our energy system is about more than replacing fossil resources with sun and wind. In fact, the economic model for renewables is completely different: 100% renewable energy can lead us to a more equal distribution of wealth.
The differences start in the way our energy system is structured. The fossil fuel-based energy system is characterised by complex, centralised infrastructures where the fuel is transported to the power plant, and energy production and distribution is controlled by very few entities. The supply chain is vertical, and the benefits are shared only among a few stakeholders.
Most renewable energies offer opportunities for more decentralised energy production and consumption. They have a horizontal supply chain and require innovation in infrastructure and energy markets. New stakeholders – including citizens, farmers and small businesses – are entering the system. They claim ownership rights and have direct impacts on the implementation.
While many energy experts and governments see citizen participation and the involvement of communities as a necessity to ensure acceptance and avoid nimbyism, the benefits go much beyond this. In fact, adopting a people-centered approach and empowering citizens, farmers and small businesses to invest in renewable energy projects, is a tool for socio-economic development and wealth distribution.
Some countries have begun to realise the benefits. A recent German study [pdf] reveals that some €5.4bn was generated in Germany in 2012 through projects that were partially or fully owned by local investors, including citizens. Local private investments created a total of around 100,000 jobs that year in both the construction sector and operation.
Here are three examples of how local economies can be strengthened by transitioning to 100% renewable energy.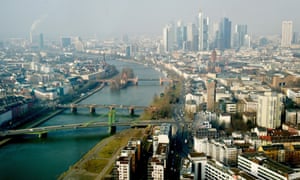 Frankfurt, Germany: €100m saving in energy costs
By 2050, Frankfurt will produce 100% of its energy consumption from local and regional renewable sources bringing down its current energy import costs from €2bn a year to zero. Thanks to its public local utility which drives this transition, the city not only benefits from these savings but generates additional income in the form of revenues and tax incomes. By prioritising energy production from within the city and the surrounding region – while still being connected to the larger national grid – the money will stay in the region.
Energy efficiency measures have saved Frankfurt €100m in energy costs, a number that is projected to rise. The city has also reduced emissions by 15%between 1990 and 2012, while its economy grew by 50% for its 715,000 inhabitants.
Vancouver, Canada: 80% reduction in greenhouse gases
One city leading the movement in North America is Vancouver. Widelyrecognised as the most livable city in the world, its environmental footprint is currently three times larger than it can sustain. Mayor Robertson and his team are committed to changing this, by putting the city on track to become the greenest in the world. By 2050, Vancouver will obtain 100% of the energy it uses from renewable sources and emit 80% fewer greenhouse gases than in 2007.
It is not only the environment that motivates the government to take this action; Vancouver is a great example of how climate and environmental protection, and economic growth, can complement each other. A study by Brand Finance estimates that Vancouver's brand is valued at $31bn due to its reputation as a "green, clean and sustainable" city. Steering the city towards 100% renewable energy and focusing on local sustainability, has helped create more than 3,000 new local green jobs in only five years.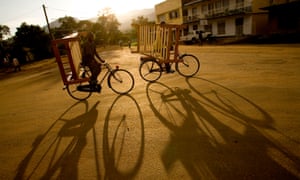 Kasese, Uganda: supplying 130,000 homes with renewable energy
The district of Kasese in Uganda (of approximately 130,000 households) is radically transforming. By 2020, Kasese will supply the energy needs of its population by only renewable sources. This ambitious target will be achieved by adopting a people-centered approach, with a wide variety of renewable sources such as biomass, solar, geothermal and mini-hydroelectric technologies. This will help the region overcome health issues strongly connected to the uncontrolled use of charcoal, firewood and kerosene, the main energy sources used for cooking and domestic electricity production.
By implementing a decentralised renewable energy system in the region, several clean energy businesses have been started since 2012, creating jobs for locals. They sell solar equipment, construct solar hubs, build biogas systems, improve cook stoves and deliver mini-hydro projects. The number of businesses in the local green economy has increased from five to 55 since 2012, and at least 1,650 people have been trained in the process.
With the international community starting to implement the new sustainable development goals, there is an urgent need for standards and indicators that allow policies and implementation to be measured and assessed, to provide guidance on a sustainable transition to 100% renewable energy. But as these case studies show, decentralised renewable energy technologies have the biggest impacts locally and regionally.
Anna Leidreiter is the senior programme manager for climate and energy at the World Future Council. Members of the Global 100% RE campaign, which includes the World Future Council, have initiated a consultation process to develop guiding indicators for policymakers on how to reach a sustainable 100% renewable energy vision. If you are interested in this process, contact @AnnaLeidreiter on Twitter.